Details
Anti-microbial Fabrics - Are they enough?
21 Jun 2020
Let's face it, we need more than a tide commercial to make us feel safe with our fabrics. From the time we rise till we hit the bed again, all we hear are ways to flatten the curve, and what the new norm heading back to work + school would look like.
As most of us are back to work, and quarantine is hopefully behind us in most areas around the world, we can conclude that everyone is desperately trying to recover what's left of the year. Work Environments have been equally quick to adjust to the spatial distancing rules by following the measures such as temperature checks of employees and visitors, minimizing 'in person' meetings and daily sanitizing to make sure everyone is safe. 
Antibacterial fabrics have been an equally hot topic on the road back to a new norm in this environment, but are they necessarily the right choice? Bear in mind using antibacterial fabrics doesn't keep you safe on its own or else we would all be wrapped in it. 

What makes a fabric Antimicrobial?
The fabric is treated with or infused with a variety of substances to keep microbes such as bacteria, fungi, and viruses from flourishing within its fibers. This is particularly important, as the porous surfaces of textiles tend to hold in moisture and heat, especially when close to the human body, which makes an environment that is exceptionally conducive to the growth of microorganisms. 
A single bacteria cell, in the right situation, can multiply to over a million in the span of just 8 hours without intervention. Unchecked microbes can lead to infections in those with prolonged close contact with contaminated fabric and the spread of pathogenic disease, as well as deterioration of the strength of the fibers, so prevention of their growth is highly important.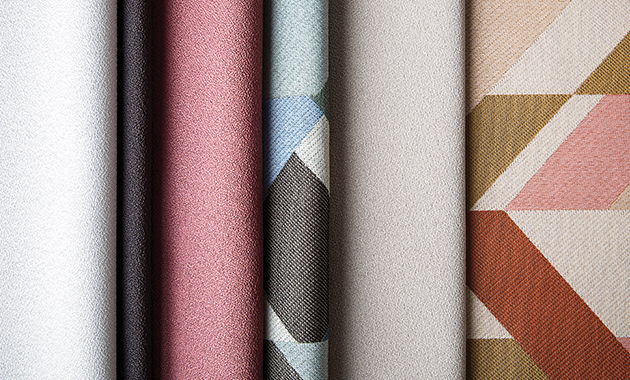 Does Antimicrobial Fabric kill the virus?
Even the fastest acting antimicrobial fabrics can take up to ten minutes to kill many microbes, and those are just one end of a spectrum of results that are all labeled 'antimicrobial'. Some fabrics merely slow or stop the growth of germs without killing them, while others may kill a percentage of germs over time.
The fact is, an antibacterial fabric could be more effective than other fabrics as it does not provide a desirable surface for bacteria to grow. 
Commercial spaces do not need to reupholster all their furniture and equipment with antibacterial fabrics, however focusing on heavily used areas like receptions, collaborative spaces could be a more effective strategy.
Antibacterial fabrics need to be cleaned and sanitized too to prevent infection and spread of virus and bacteria. The cleaning process is key in this. Bleach Cleanable fabrics are also a viable option if you are looking for a more cost effective fabric to antibacterials ones. Removable upholstery is also another option to ensure your surfaces stay clean and fresh.
Contrary to popular belief that most antibacterial fabrics are clinical and boring due to their functionality of being washable and tolerant towards chemicals, The Total Office offers a very wide range of fabrics available with its Luum Collection which could be used with a diverse color palette and patterns in spaces to spark interest and play in terms of design.

We are all in this together, let's make wise choices, please follow the necessary rules and regulations.
---
Refrence : Erin Veneziale