Details
Top 5 technology fabrics of the decade
05 Oct 2020
1. PINATEX
Pinatex is a natural fabric made out of pineapple leaves which has become a great alternative for leather promoting a positive social and economic impact along with a low environmental impact throughout its life cycle. In terms of touch and tactile experience within the fabrics, it feels and looks exactly like a leather with a difference, no animals are harmed!
The components are made out of natural elements of pineapple which makes it a sustainable and a recyclable product as well. The belief that this product only comes in green is inaccurate, as it offers a wide range of color palette for designers and industry at large. The product's versatility ranges from embroidery to upholstery and clothing.
If you haven't heard about Celliant fiber technology yet, then you definitely need to know more about the latest energy efficiency hype. Cellient is made of thermo-active components which are meant to convert the heat resulting from body movements, and activities into infrared energy and transfer back that energy into your body. But the question is what would be the advantage for the user to use Celliant fiber?
Celliant can cause a faster recovery of muscles, better performance of the body, and increase the amount of oxygen within the bloodstream. Celliant's ability to increase the body's oxygenation, will help lungs to perform better, which can increase the blood circulation at the same time. This is something that athletes and people with an active lifestyle would consider as an essential element to have a better function throughout the day. At the same time, the more balanced the amount of oxygen in your body is the more restful sleep you'd have during the night. 
3. Textilene ® solar fabric (Solar Control Fabric)
Shading fabrics usually have the mistaken impression, "the thicker the material, the less heat is transferred, a fact that only really affects the amount of light that passes through.
However, technology has found a solution. Solar Control fabrics block the sun for you, but not the view! The interesting fact about these blinds is that they are available in different openness levels, transparency, styles and colors yet it can block the heat more effectively than a thick blind which can be a damper on the space. Svensson's 'Cinq' which is one of their solar control fabrics, can help to reduce air-conditioning costs by up to 25%. 
As a result, these products could be a great alternative for normal fabrics to save energy and improve the work environment but also to reduce the energy costs by reducing the need for artificial cooling within the interior space. Commercially these products could be great for greenhouses where the temperature and light need to be monitored precisely. 
The fact that they are designed and engineered perfectly to be available in different designs, patterns and colors yet being functional in different ways, makes it a great product for designers and users alike.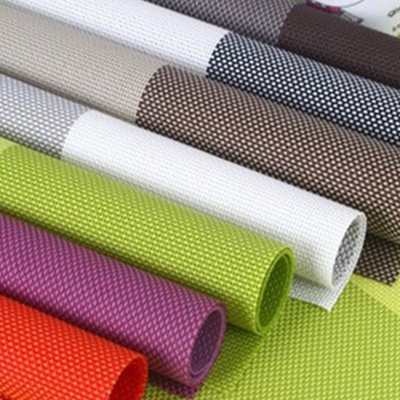 Not a big fan of vinyl? Don't fret, neither are we. It feels plasticy and fake, doesn't it?
Vinyl however has performed incredibly when it comes to healthcare projects. The surface is impermeable to moisture, and it reduces the possibility of microbial transmission from one person or object to another. It is easily cleanable, the product is water and stain resistant, flame-resistant, and also it does not get scratched or damaged easily. 
This product is made out of basic black and white cotton fabric woven together, and it gets coated by the very thin fragile sheet of polyurethane which makes it qualified for all the vinyl features such as being cleanable, water/stain resistant and etc but also it gives the user the feel of a 3d textured fabric. 
The great fact about this manufacturing process is that the polyurethane sheet can be made in different colors and shades, and cause an unlimited color palette for the product which is something designers would love to see!
Made out of 100% Silicone the fabric is inherently antimicrobial due to the natural components used in its production. Due to its flexibility the fabrics have a wide range of applications including hospitality, healthcare and education. The feel and the texture of the product is very similar to leather, but softer, and more durable. 
It's use is predominantly as a healthcare fabric being a bleach cleanable product. It's equally stain resistant /cleanable as an alcohol pad can easily wipe away most stains.
The design industry usually stays away from lighter fabrics due to the stains & visible marks left from clothing rubbing on fabric surfaces constantly. Top Coat is especially resistant to Denim & Abayas (for the Gulf region) which makes this stain resistant feature a popular leather alternative.