Details
The Evolution of the Conference Room
27 Dec 2021
Conference rooms used to mean large meeting tables and boardroom chairs. If they were meant for executive-level meetings, you'd find marble-topped boardroom tables, high back chairs, and a nice veneer topped credenza to add a luxurious flair to it. 
But conferences today require so much more than just tables and chairs. We don't use paper charts to present anymore, and not all attendees are physically present in a room. We've accepted the hybrid working model as the norm, nearly all processes are now digital, and we essentially work in the virtual world. The average office worker now demands more from conference rooms than ever before. According to one stat, meetings take close to 30% of an executive-level workers' week. Hence, meeting rooms hold strategic importance when considering the productivity of a company's workforce. The available tools needed to support your team's goals must be reliable, secure, and easy to use. 
To give you an idea of what the conference room of today looks like today, here are some of the key trends and requirements.  
Seamless Setup
Ever spent days preparing for an important presentation, only to have your big opening lose steam because of your technology not working the way it's supposed to. Even with the latest advances in software, mishaps do happen. Employees lose precious minutes during meetings when they struggle to connect to AV systems - connecting to the WiFi, or making content appear onscreen. Besides causing frustrations and decreasing productivity, tech inefficiencies lead to time wasted which can, in turn, impact a company's bottom line. By investing in professional, high-quality, and user-friendly systems, companies can significantly improve productivity. Ensure your conference room is BYOD ( bring your own device ) friendly by allowing simple one-step USB connections or WiFi to allow for seamless presentations. 
Integrated Technology
Clunky furniture with wires hanging out is a thing of the past. We now have a large selection of furniture to support our conferencing needs. Among our favourites is the Mesa table from Halcon. Besides being a stunning work of art, the Mesa table has several features that make it an exceptionally stunning and practical product. Its innovative perimeter power and data drawers deliver a seamless, intuitive interface that is literally at your fingertips. These patented drawers allow you to conceal or store wires and accessories, bringing them out only when needed.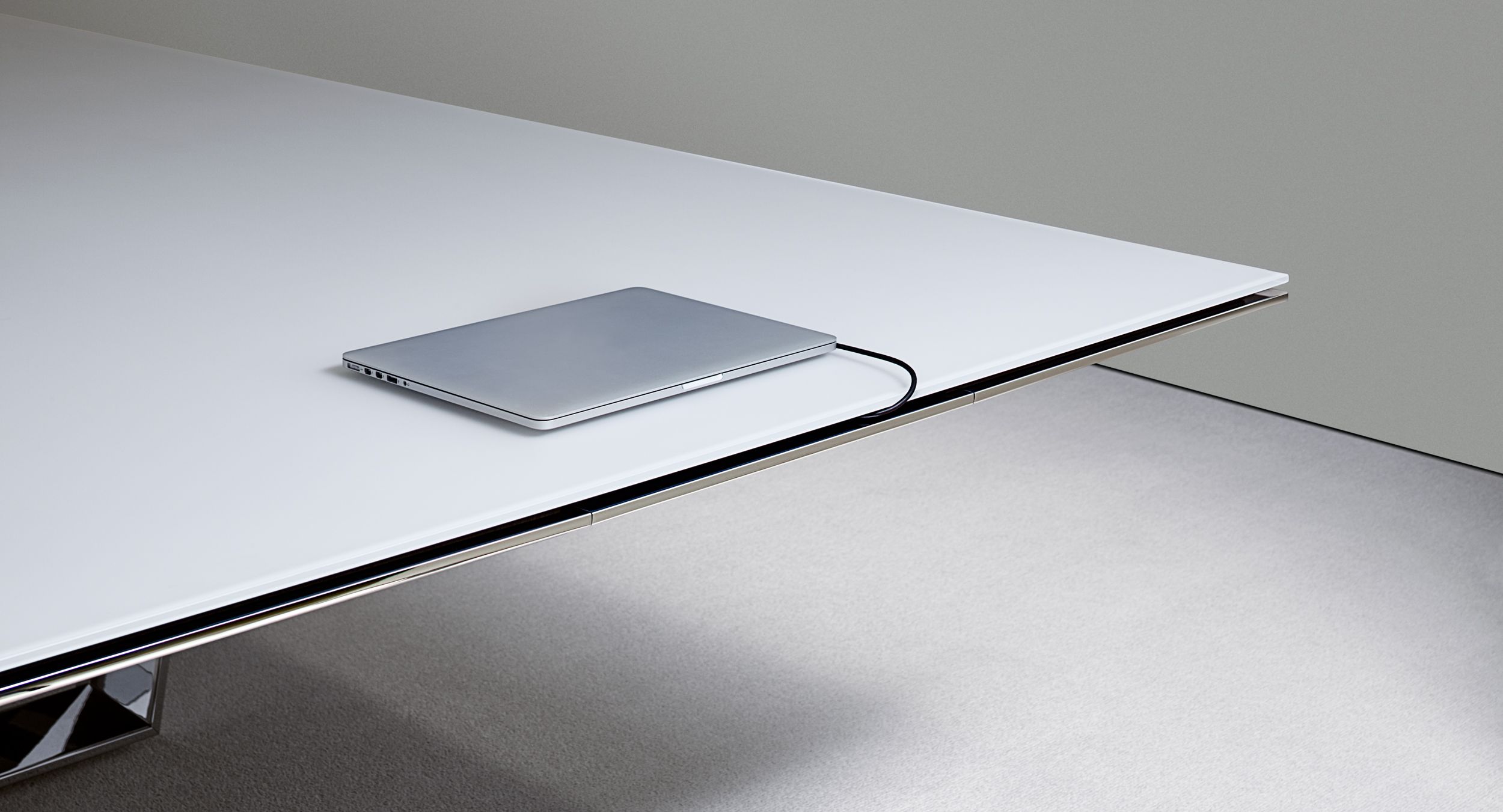 Bonus - you can even control the lights in your conference room right from the meeting tables. With the simple integration of a tablet and a custom app, you won't ever have to leave your seat to dim the lights for a presentation. 
Collaboration Tools and State-of-the-Art Conferencing Solutions
Conferences aren't just for presentations or high-level discussions, they're also a place to brainstorm and generate ideas. Your conference room should be able to support the flow of ideas and enable seamless creativity. Glide - a vertical sliding glass whiteboard system, is an exceptionally stunning and useful product that beats nearly all other glass board solutions in the market. It maximizes your existing wall space to provide hundreds of consolidated square feet of glass writing surface to inspire free-flowing collaboration. But for those interested in digital tools, you have products like google jam board or the Cisco spark board that is made for exactly this purpose - they allow seamless collaboration for participants both physically and virtually. 
But no modern conference room is complete without a high-tech conferencing solution. A personal favourite is Huddly L1 - an AI collaboration camera built for large meeting rooms. This compact and smart system not only delivers incredible user experiences but its setup is unobtrusive too. The systems helps you avoid having participants on the other side of the conference feeling like they're looking through binoculars. 
Conference used to be about prestige and setting an impression. Today, it's moved to a focus on collaboration and inclusion. Conference rooms today now allow for transparency and communication, and it's imperative that organizations, large or small, use the best tools at their disposal to facilitate productive meetings. 
About The Total Office
As a provider of workspace solutions, The Total Office helps its clients with tools for collaboration, acoustics, environmental sustainability and well being, by providing quality products from international brands. The company is headquartered in Dubai, and serves the UAE and the wider Middle East region. All press enquiries can be directed to Rima Singh at [email protected], +971.4.450.8700. For more information, visit www.thetotaloffice.com.