Details
Have we run out of Acrylic in the country yet?
19 Jul 2020
Over the past 3 months we've attended a variety of webinars that prompted for a shift in designing workspaces, to move away from the chicken coup we often refer to as benching. After all we've now had a taste of working from home (WFH); surely this was enough to shift policies to a hybrid system? Not really!*
Yes, companies may have come to a full complement in stages and most multinationals are still figuring out the best possible way to bring their employees back to work, however most SME's are back and raring to go, why? Because the alternative seems like a worse option in a country teaming with expats.
Zoom, Meet & Teams have done their best to keep us plugged in to meetings, webinars and social drinks online, but 10 hours of that daily can make you want to scratch your eyes out. What's the solution you ask?
While I'm sure designers are drawing up the spaces for the new decade, most companies have reached out to their local vendor for… you guessed it, Acrylic Screens! In a bid to continue social distancing in the workplace most organizations have opted to retrofit their workstations with acrylic screens, this phenomenon has been such a hit, that the availability of Acrylic in the market is now in question!
Manufacturers too haven't been slow to react. Many solutions have skipped their 18month design and incubation period and have gone straight into production.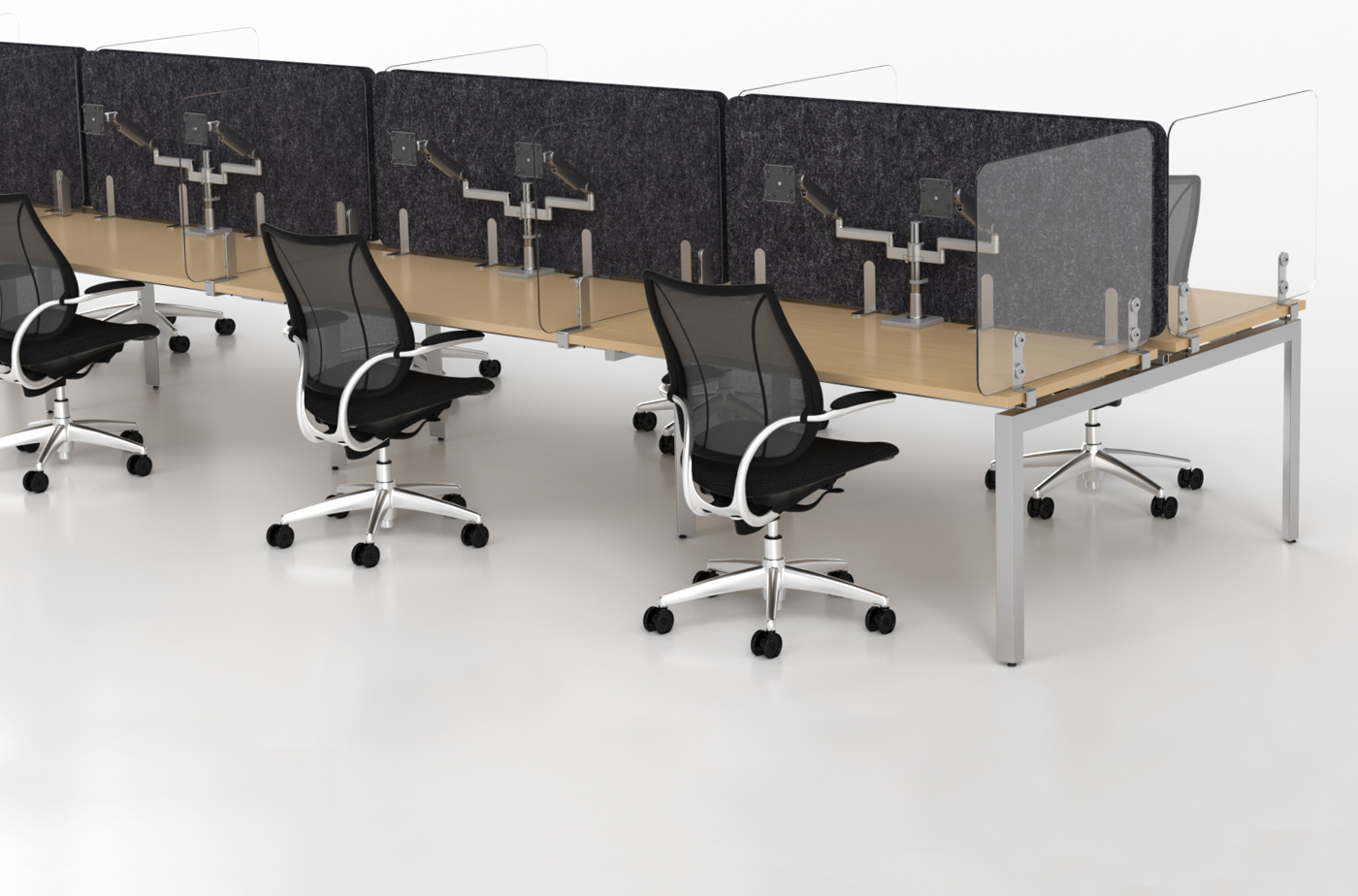 Humanscale's Well Guard products offers a PETG solution which comes with a host of benefits compared to Acrylic which includes:
Top grade recycled material

V2 - Flame rating

6X stronger than Acrylic

Safely Cleaning using a variety of chemicals

Orangebox who've led the way on the collaboration front for over a decade have taken the opportunity to re-imagine the workplace in a program called the "Hula Hoop Office" that focuses on steps to return to the workplace safely, while still enjoying your being expansive tables to ideate and share.

Some companies have also introduced shifts - Team A works in the office on a Sunday & Monday, while Team B works from home and vice versa with Thursdays being an optional work from anywhere day.
The world has moved at an unprecedented speed to put systems in place to improve safety in the workplace, we aren't sure acrylic is the answer, however there's no denying it is the popular choice at the moment for many reasons:
It's inexpensive

It quick as its locally fabricated

It ticks a safety box that no one can truly explain
Regardless of the direction your organization chooses, educating your team on the pandemic and how to combat it at every touch point is equally important.
Stay well & be safe.