Details
Here's how you can get LEED-certified in the Middle East
23 Jun 2019
In the past few years, environmentally-clean construction has become big business. Here are our tips on how to get LEED-certified in the Middle East.
Why is LEED certification important? 
Eco-friendly buildings are fast becoming one of the biggest concerns within the industry. As a result, many third-party companies have sprung up, offering independent certification for environmentally conscious companies. Although there are many different rating systems, the LEED (or Leadership in Energy and Environmental Design) system is one of the most highly regarded organizations. It was developed by the United States Green Building Council (USGBC) and it is an internationally recognized system for businesses and private communities alike. In total there are four different awards given by the body, those include 'certified', 'silver', 'gold' and the highest ranking award - 'platinum'. 

How do I get LEED certified products? 
Contrary to popular belief, you cannot actually buy LEED certified products.LEED is a system which rates company units, buildings, or entire communities on their eco-friendly infrastructure. This includes things such as location and transportation links, water efficiency and energy efficiency. Although there are points awarded for eco-friendly interiors, these factors actually play a small part in overall certification and certainly won't lead to certification alone or an increased ranking. If you are looking for eco-friendly office furniture or interiors, there are separate bodies which rank their ecological efficiency, namely the GREENGUARD Certification and the Environmental Product Declaration (EPD).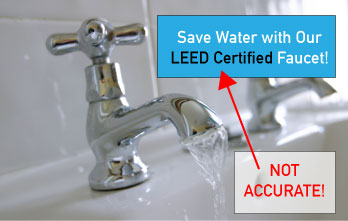 Which factors can net the most LEED points? 
Depending on which category your build falls into you will be given a specific test, however, the areas which impact your accreditation remain largely the same. Overall, the most impactful is 'energy and atmosphere', which accounts for nearly half the points in the LEED accreditation system (38 possible points out of a total possible points of 110) across the ID+C hospitality, commercial interiors and retail criteria This category specifically looks at the extent to which your unit, building commercial community is energy-friendly, taking into consideration factors such as advanced energy metering, renewable energy production, and - netting the most points within this category - optimized energy performance for your entire build. The second and third categories netting the most points across the three ID+C tests are 'location and transport' and 'indoor environmental quality'. A full breakdown of the requirements can be found on the official LEED website. 
Have any companies in the Middle East achieved LEED platinum certification? 
Although plenty of companies have achieved LEED certified status in the region, arguably one of the biggest achievements seen in the region this year was when Dubai became the first city in the Middle East to achieve a platinum LEED rating. It's not expected to be the last, however, as noted in the speech by HE Saeed Mohammed Al Tayer, MD & CEO of DEWA earlier this year "The [platinum LEED] award is a tribute to the efforts and vision of His Highness Sheikh Mohammed bin Rashid Al Maktoum, and the diligent and cohesive efforts of governmental entities and authorities in the Emirate". No doubt construction companies across the region will take heed of the environmental direction of the city as they plan their efforts for the coming years. 
If you were interested in this article, you may also be interested in this story on the evolution of meeting spaces. 
By EMMA HODGSON